I'm proud and excited to announce my first guitar instructional video, Essential Percussive Guitar Riffs, available today from http://jongomm.com/lessons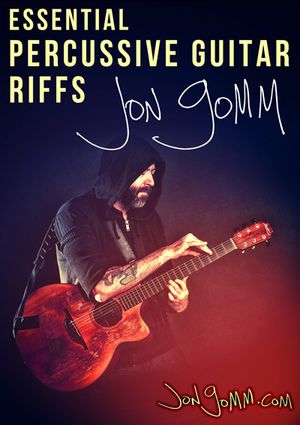 A huge lesson with me, over 2 hours long, based around 10 riffs which I've specially composed to break down modern techniques like percussion, tapping, harmonics and upside-down playing, step by step, so that you can understand them, master them, and make music with them.  
I will teach you not just what to learn, but how to learn it. All the secrets, revealed.  
2 hours 25 minutes running time  
Multiple video angles  
10 incredible riffs  
Full tab for every riff  
Every riff in the same tuning  
Playable on any acoustic guitar  
Every technique fully explained  
Advice and guidance  
The impossible, made possible!  
Only from http://jongomm.com/lessons 
I've put my heart and soul into making this. If you're not a guitar player yourself, please recommend this video to any that you know, or maybe share my facebook video commercial: http://bit.ly/gommlesson
If you are a guitarist but you don't think you can manage these techniques: That's because I didn't show you how yet! YOU. CAN. DO. IT. :)