"There are very few musicians on the planet who can actually strike me speechless with the beauty and skill of their playing. Jon Gomm is one of those musicians." - Randy Blythe (Lamb Of God)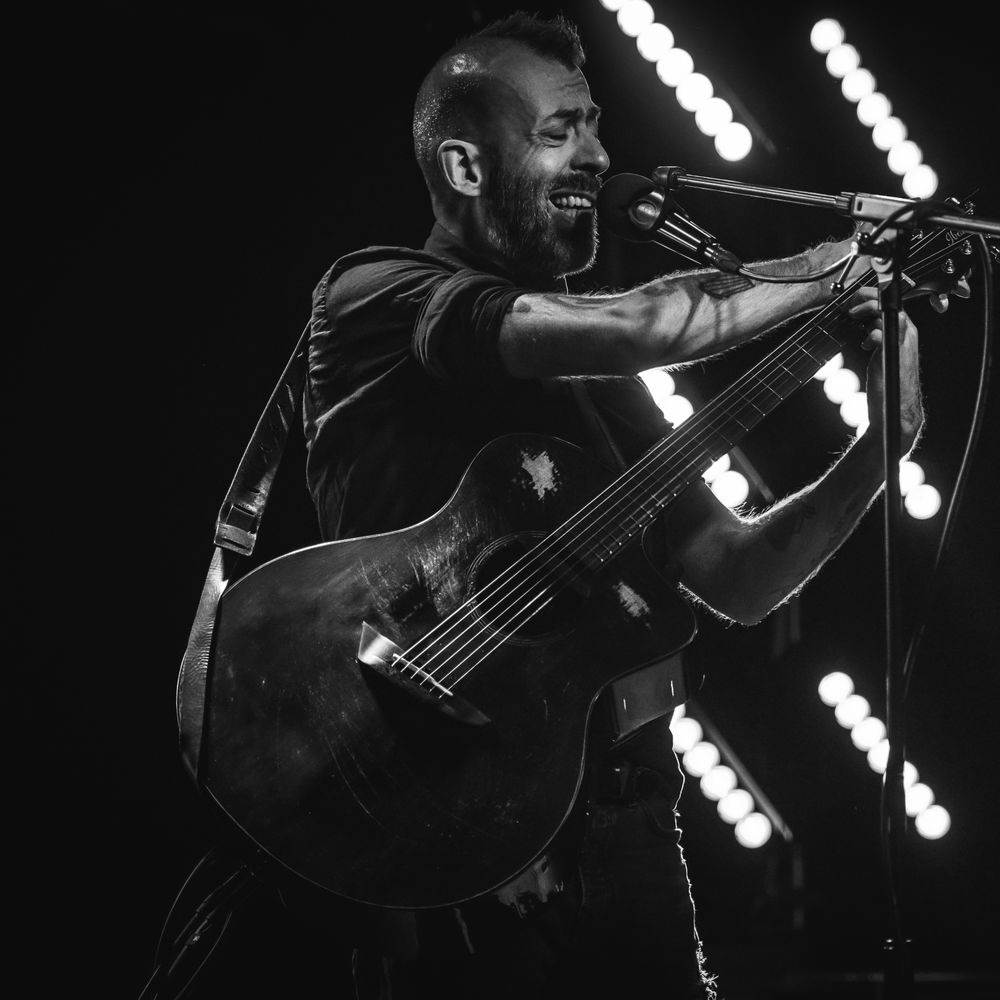 Jon Gomm is a singer-songwriter and acoustic solo performer based in Yorkshire, UK, known for his once-seen-never-forgotten virtuoso guitar style. This involves slapping, tapping and retuning as he plays, producing a huge, multi-layered sound filled with bass, drums and near-orchestral depth and complexity from a single guitar.
His songs are often deeply emotive, whether with or without his soft, affecting voice. And his live performances are intimate and powerful, but always punctured by his natural North Of England wit and self-deprecation.
In 2020 Jon was voted "Best Acoustic Guitarist In The World" in the largest online poll of its type, conducted by MusicRadar / Guitar World.
Ibanez guitars launched the JGM10 and JGM5 Jon Gomm Signature Model guitars in 2021. He's the 3rd guitarist ever to design a signature acoustic with Ibanez, the previous two being Joe Satriani and Steve Vai.
In 2023, Jon's song Passionflower was placed 6th in Total Guitar's "50 Greatest Acoustic Guitar Songs Of All Time", just behind The Beatles' Blackbird and Tears In Heaven by Eric Clapton.
Jon is also a passionate advocate for mental health and neuro-diversity.
"Jon, you are a genius man, I LOVE your music and playing!" - Steve Lukather (Toto)
"Wonderful guitar playing. An all-round genius" - Stephen Fry (actor, writer) speaking about Jon Gomm on The One Show (BBC, UK)
When he was 2 years old, Jon demanded a guitar for Christmas from his parents. They gave him a ukulele instead, but after he summarily smashed it to pieces in frustration, they got him a guitar and found him a teacher. Growing up in Blackpool, UK, Jon's dad - a journalist and music critic for the local newspaper - would take him to gigs, and often bands on tour would stay at their home. The young Jon was lucky enough to meet and pick the brains of such luminaries as Jack Bruce (Cream), Walter Trout and BB King.
Jon turned down a place at Oxford University to instead attend The Guitar Institute in London, then Leeds Conservatoire. Leeds became his adopted home, and the city museum requested one of Jon's guitars for its permanent collection in 2021.
From there, he began self-releasing music and touring, and while still a fiercely independent artist, he defied the odds to sell thousands of albums and tour countries across Europe, North and South America, Australia, Asia and Africa. 
"Making music can be a battle between trying to be a technical guitarist and trying to convey emotion. Unless you're Jon Gomm. Then you can write the most complicated passages and have a heart-breaking melody as well." - Andy McKee (guitarist)
"Hands down the most amazing guitarist I have ever seen!" - Tommy Lee (Motley Crue) 
His breakthrough came in 2012, when he released his first ever single, Passionflower, along with a video of him performing the song, which went viral, totalling well over 20 million views across platforms. Suddenly being catapulted from cult obscurity to mainstream acceptance has been a strange experience for someone so devoted to his craft, and Jon is an unlikely guitar hero who remains very much true to his roots in the UK acoustic circuit.  
Jon has released 4 studio albums, his latest being The Faintest Idea on Kscope records. Guitarist magazine (UK) said: "While The Faintest Idea is first and foremost a songwriting masterclass - with Gomm exploring the beauty and pain of life's travails - it hasn't stopped him casually ripping up accepted truths of acoustic technique along the way, with a slew of sounds-like-six-hands guitar parts." 
It included the singles Cocoon and Deep Sea Fishes. 
Jon continues to interact regularly with his loyal "Gommunity" of fans online, and is currently writing new music and playing concerts around the world. 
"Wonderful playing and singing. The whole package." - David Crosby (Crosby, Stills and Nash)
"I love your work and style so much. You are very special." – Jon Anderson (Yes)
"One of the best in his field. Very inspiring!" - Joe Satriani
"Keep kicking ass. You are a monster player." - Jennifer Batten (Jeff Beck, Michael Jackson)