New vid: My cover of High And Dry by Radiohead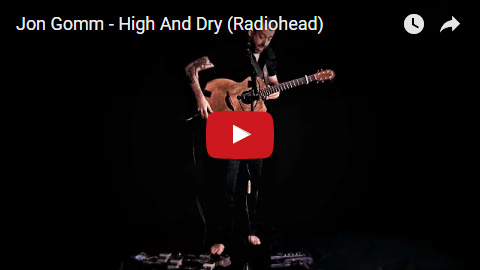 Watch it at https://www.youtube.com/watch?v=88L0D4UFl9Q
Guitar Tab finally available for this song at
http://jongomm.com/guitar-tabs
 Every technique is explained. It's a complete walkthrough guide to the song.
High And Dry is the 7th video from from the
Acoustic Asylum
series. Get the song and album and Pay What You Want from
http://jongomm.com/music
Also on iTunes
http://j.mp/iTunesGomm
or Google Play
http://j.mp/GooGom
or Amazon
http://j.mp/AmzGomUSA
I've been playing this song for the best part of two decades. For my very oldest fans and friends, this is the one they think of when they think of me, even though it's a cover. I love the song deeply. I've always been convinced it's about Gene Kelly's character in the movie "Viva Kneivel!", an alcoholic ex-stunt motorcyclist. 
Performance wise, this arrangement channels Michael Hedges maybe more than anything else I've ever come up with. Not just the guitar techniques, but the vocal, even the bare feet. 
I've played it better than this, but I've played it worse. It's kinda slow: I was a bit bipolar, so I'm dragging it back, fighting myself, and I probably over-compensated. Maybe that makes it me.