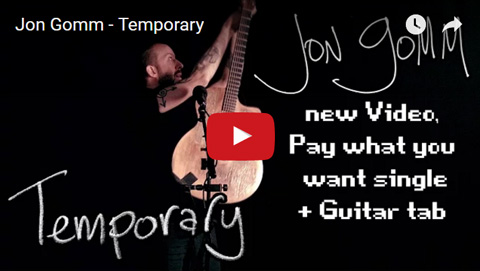 Links so you can spread the love : 
Youtube: https://www.youtube.com/watch?v=diEc9TLa5M8  
Facebook: https://www.facebook.com/jongommofficial/videos/1237274052951125/  
Temporary is the 5th release from the Live In The Acoustic Asylum series. The lyrics are blurry, flickering childhood memories of being with my mum at a really difficult time in our lives. The message, if there is one, is: Emotions pass. So, this one's for my empowering and inspirational friend, Elizabeth Gomm. 
Get the Pay What You Want song + album here: http://jongomm.com/music Also on iTunes http://j.mp/iTunesGomm or Google Play http://j.mp/GooGom or Amazon http://j.mp/AmzGomUSA 
Guitar Tab available here: http://jongomm.com/guitar-tabs Transcribed by me, with detailed notes explaining every technique.