New video out today, hope you dig it. (And if you do, please share.)
It's an instrumental tune called Stupid Blues, and it exists purely for the joy of playing.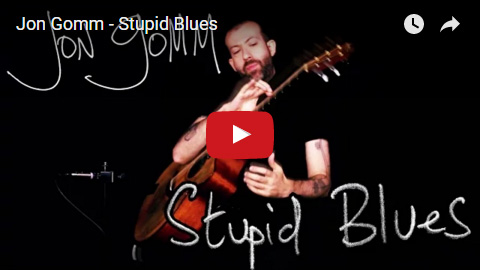 Link: https://youtu.be/7BVUPmRiaXQ 
This is the 4th release from the Live In The Acoustic Asylum series. Buy the song + album (Pay What You Want) here:
http://jongomm.com/music
or from iTunes
http://j.mp/iTunesGomm
or Google Play
http://j.mp/GooGom
Amazon
http://j.mp/AmzGomUSA
Guitar Tab only available here:
http://jongomm.com/guitar-tabs
Transcribed by me, with detailed notes explaining every technique.
Tour stuff.
Just Germany/Switzerland left now, then I'm taking a little break from touring while I concentrate on other stuff, including writing some new songs. (Got a few almost finished that I'm actually quite proud of. A bit.)
Feb 10 - Lagerhaus, BREMEN - DE
Feb 11 - Privatclub, BERLIN - DE
Feb 12 - Gladhaus, COTTBUS - DE
Feb 13 - Beatpol, DRESDEN - DE
Feb 15 - Ampere, MÜNCHEN - DE
Feb 16 - Franz K, REUTLINGEN - DE
Feb 17 - Cubus, BIRRHARD - CH
Feb 18 - Kiff, AARAU - CH
Feb 20 - Brotfabrik, FRANKFURT - DE
Feb 21 - Rathausdiele, SCHWEINFURT - DE
Feb 22 - Studio 672, KÖLN - DE
Feb 24 - Nochtspeicher, HAMBURG - DE
Feb 25 - Pavillion, HANNOVER - DE
Feb 26 - Tommy's Workshop, VIERSEN - DE
Feb 27 - Edith-Stein-Haus, KAISERSLAUTERN - DE
Karten / Informationen: http://jongomm.com/live-dates 
Special guests: Kugler & Waloschik http://www.kugler-waloschik.de/
Please take note: Some of these concerts are rescheduled from 2015. Check with the venue to see if your original ticket is still valid.

Hey, nice to meet you.
Thanks to everyone who came out to see me in Canada, the UK and around Asia at the end of last year. Every gig was awesome. How lucky am I? Very. Here's just a few highlights...
With the kind, hilarious genius Don Ross in Canada.

Tweet after this gig in Southampton:
"If I die today, at least I saw Jon Gomm live." :)

Bar 122 Huddersfield, a venue that's part of my DNA.

An unforgettable night at The Jazz Cafe, London.

On stage in China. Guitar + Human = Music.

Just another average day holding a press
conference in Mongolia.  O_O

The beautiful crowd at Clockenflap festival, Hong Kong.

A global audience in Shanghai.

 
Another new video and more VERY exciting news soon (Argh I so wanna spill about this one thing. Soon!) In the meantime, please stay in touch with me at: 

Facebook : http://facebook.com/jongommofficial
Twitter : http://twitter.com/jongomm
Instagram : http://instagram.com/jongomm
Google Plus : https://plus.google.com/+JonGommMusic

Love from,
Jon
x​