IBANEZ JGM10 Jon Gomm Signature Model Guitar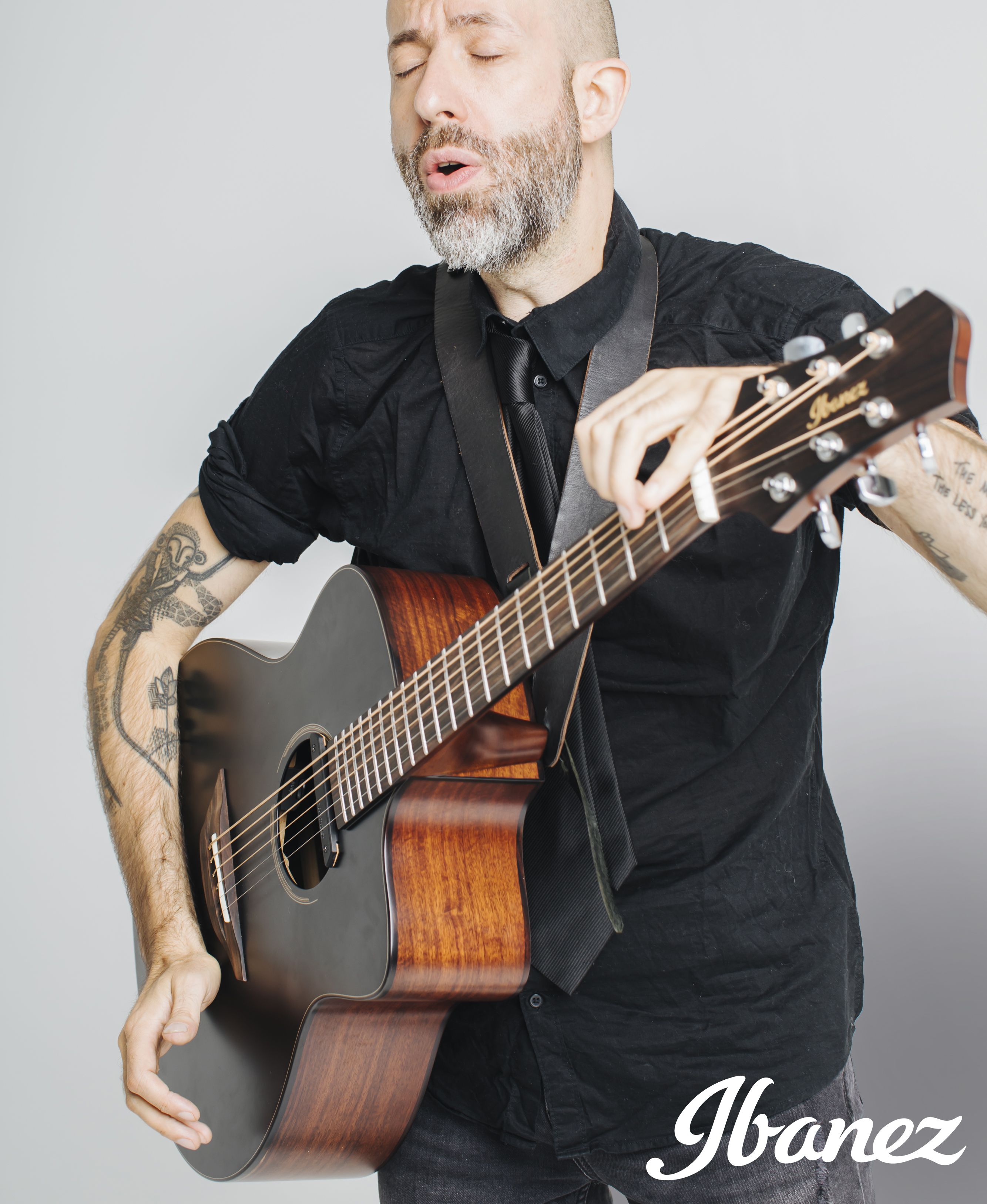 A guitar designed for the modern fingerstyle guitarist, including percussive guitar playing. I'm so proud to have created this with Ibanez.

Order UK: http://bit.ly/JGM10UK 
Order US: http://bit.ly/JGM10USA
Order EU: http://bit.ly/JGM10EU

The JGM10 has deeper bass and brighter harmonics for a full sound when playing solo guitar music. It has louder frets (yes, that's a thing!) for clearer hammer-ons. It has a unique body and bridge ergonomically designed for percussive playing. It has the perfect scale and string spacing for modern fingerstyle playing. It has a more stable neck for retuning. It has a unique triple-source pickup system by Fishman - Rare Earth humbucker, condenser mic and Powertap body sensor - wired so you can use one regular cable, or split into stereo, or even split into three. And it has a cool headstock shape I drew on my touchscreen laptop my mum bought me for my birthday. 

Made with incredible woods painstakingly chosen via blind testing: Thermo-Aged Sitka Spruce top, Pau Ferro body (looks and sounds gorgeous), 5 piece Mahogany/Pau Ferro neck, Macassar Ebony fretboard and bridge.

Developing this guitar with Ibanez has been an incredible experience. Their patience and expertise are limitless. They have not once asked me to compromise on any aspect of the design. Every idea I had was tried. Everything was chosen by painstaking testing: Woods, necks, pickups, bridges, everything.

My dream is that this guitar will remove limitations for modern fingerstyle acoustic guitarists, in the same way that Ibanez electric guitars did for my progressive electric guitar heroes. It's such an honour for me to be a part of the Ibanez family with those heroes today. 

I love this guitar. I hope you will too. Video: The Story Of The Ibanez Jon Gomm Model
FAQ
What makes this guitar so great for modern fingerstyle techniques?
So many things. Playability wise, it has a slightly wider string spacing, moving towards a classical guitar width, which makes intricate finger-picking easier, and complex chord shapes more accessible. The frets are a little taller, and made from stainless steel: This makes any hammer-ons or tapping much louder and clearer, without having to play so hard. And the tapped or slapped harmonics are more bell-like and musical. As a bonus, stainless steel frets last for many, many years without the need for repair or replacement.
And tonally, the body is large but still ergonomically shaped, so you get all the "piano bass" on the bottom strings, but it's still comfortable to hold.
The scale length is also fractionally longer than you would expect on an acoustic guitar. This means that the bass notes have more "fundamental" (the lowest tone you hear when you play a note, rather than the overtones) and sound deeper and richer. But it's not a baritone or "long neck" guitar, so the difference feels negligible for the left hand, and the harmonics are still sparkly and lush.
Please explain the pickup system. Is it complicated to use? 
Most modern players have been on a long journey experimenting with pickups, to try to find all the sounds they want to get from their instrument, which can't be created using a standard under-saddle piezo you'd find on 99% of guitars with pre-installed pickups.
Magnetic soundhole pickups are wonderful for getting an even, reliable string sound, with the maximum volume without feedback. Then internal microphones are essential for finding the sound of the "air" - the natural acoustic sound of the guitar. And finally, body sensors, or transducers, give you the bottom end: Your low bassnote fundamentals, and any "kick drum" percussive effects. 
This system unique Fishman have produced for the JGM has all three of those elements. A Rare Earth humbucking magnetic pickup, a Rare Earth condenser microphone voiced perfectly for guitar, and a PowerTap body sensor, mounted to the bridge plate (inside the guitar). 
There are two output jacks, but if you want to keep things simple, you can just plug in one regular guitar cable into the guitar, and it will send all three pickup signals down that one cable. You can blend them using two little blend-wheel controls discreetly mounted at the soundhole.
However, if you plug in a stereo cable, plus a regular mono cable into the second jack, then it will send all three signals separately, so you can mix them how you like. Maybe add effects to your strings, but not your body/percussion. EQ everything just how you like it. This is how I and all my pro fingerstyle peers get our sound.
There's even a third option: If you have a two-channel amp, you can plug in two mono cables, and get the Rare Earth system in channel A and the PowerTap sensor in channel B. A useful compromise when you are restricted to 2 channels.
So, it's a simple or as complicated as you want to make it. 
To have a system with this sound and this functionality pre-fitted into a guitar, is the holy grail.
Read the pickup system user guide (PDF)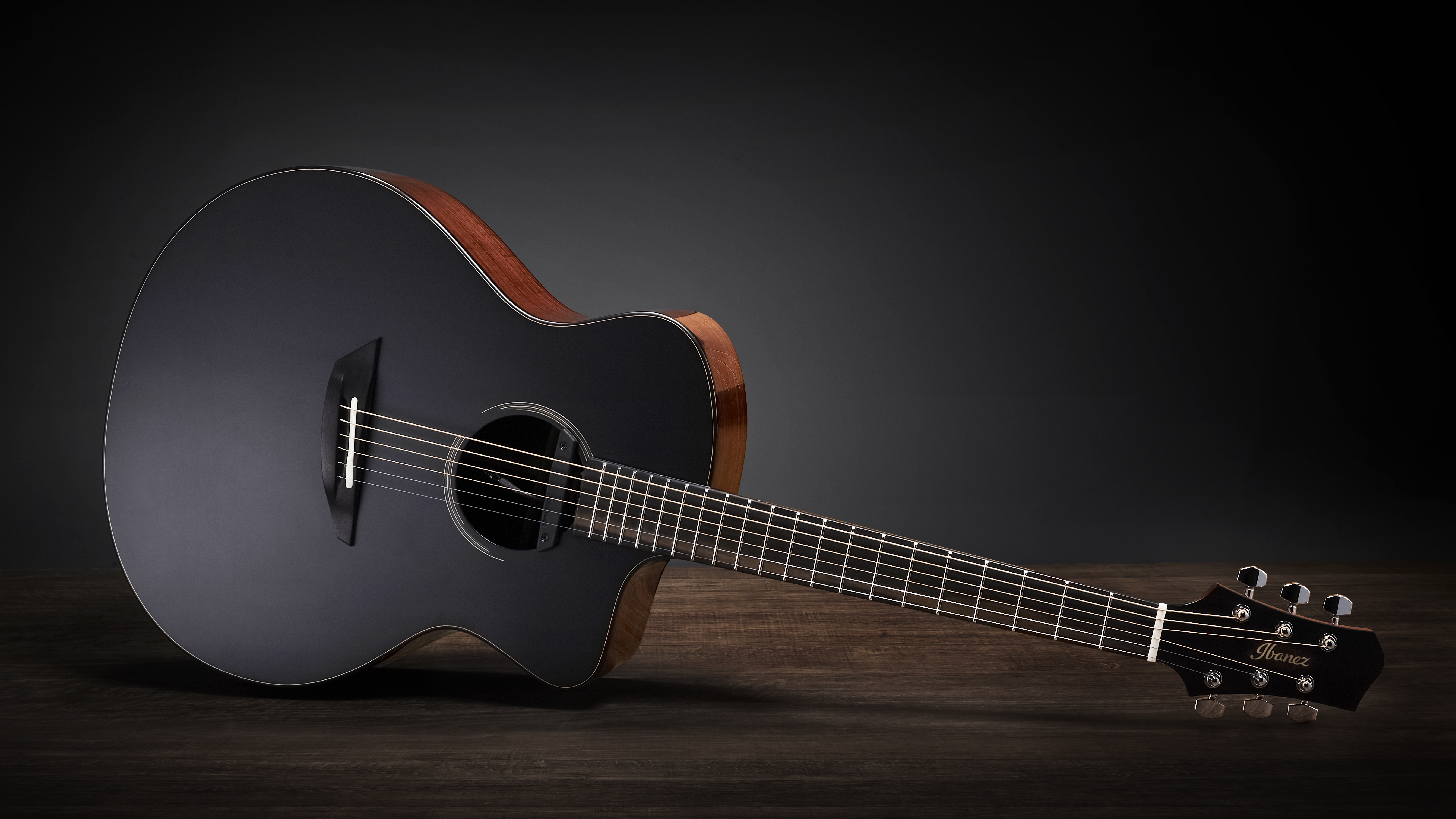 Why is it better for percussive guitar playing?
Unlike my old guitar, this one doesn't need a reinforced top, because it uses that Thermo-Aged Sitka spruce. Thermo-aging makes it stronger (and sound amazing: It's like it's pre-EQ'd). 
I tweaked the body shape so it's no longer symmetrical (which may be a first in acoustic design, I'm not sure), so certain common techniques are easier to reach. And the cutaway area is the perfect size and shape for any "bongos" and "snares" you wish to play down there. 
The finishes have been chosen for percussive sounds too: The top is natural, non-sticky and woody, and the sides are gloss for a sharper "crack" on your snares. 
I even moved the bridge. The bridge is offset, like a less dramatic version of what you might have sees on fan-fret guitars, to open up more space and resonance for the most common kick drum (aka bass drum) technique. Don't worry, the intonation is unaffected, of course!
How did you choose these woods?
After building the basic first prototypes, just to test the body shape and scale length really, Ibanez made second stage prototypes with a variety of woods and finishes. Then I blind tested them. I also took them home and tested them for weeks, making each one my main instrument for that period.
We tried spruce, Thermo-Aged spruce, cedar and bubinga soundboards. I love cedar, but it is so soft it isn't really good long-term for percussive techniques, but it was a useful comparison for its beautiful tone. The Thermo-Aged spruce won hands down. The Thermo-Aging process is truly extraordinary. It gives the wood the character of a 20 or 30 year old instrument, but it has more strength, rather than less. Like tempering a sword, I guess! It still took a few weeks to settle, but after that, it takes away all that harsh newness which spruce has for many years.
The back and sides, we tried the more traditional mahogany and rosewood, but I just loved the Pau Ferro - It has the density and therefore the clarity and enhanced highs and lows of rosewood, but to me it has more character in the lower mids: A kind of darker, earthier tone. It also looks beautiful, with a reddish purple colour and often a highly contrasting grain.
Also, it's a sustainable wood, which doesn't require the decimation of ancient rainforest to harvest.  
Where are the two banjo tuners you use?
So, I decided not to include them. Those tuners (Keith Tuners from Beacon Banjo) cost $130 each, and so it would add over $250 to the price, and I figured not everybody would want them. (For perspective, the best quality guitar tuners cost about $80 for a set of six: $13 each!) I don't want this guitar to be only for my fans. Also, if you want them you can buy them and install them very easily. All you need is a screwdriver. And $260. (There are cheaper copies available but they simply don't work very well.) The Keith Tuners are an important part of my playing, but not an important part of the guitar I use, as they can easily be added and removed.
Why is it black? 
Thing is, the choice of woods for the top of a guitar is basically spruce, cedar or a couple of others, all of which are very plain and boring, so every guitar looks the same. Whereas the back and sides, you can make out of a wood which is beautiful and characterful.
So I'm really into coloured tops and natural back/sides. I think it provides a stunning contrast, and I hope it gets more popular.
SPECS
body shape - Asymmetrical Jumbo body
bracing - Thermo Aged™ Spruce Modified X-M Bracing
top - Thermo Aged™ Solid Sitka Spruce top
back & sides - Solid Pau Ferro back & Solid Pau Ferro sides
neck - JGM African Mahogany/Pau Ferro 5pc neck
fretboard - Macassar Ebony fretboard
bridge - Macassar Ebony top loading bridge with subtle offset angle
body binding - Macassar Ebony body binding with rounded body edge
tuning machine - Chrome Die-cast tuners (18:1 gear ratio)
nut material - Bone
number of frets - 20
saddle - Bone, extra wide for improved compensation / intonation
strings - D'Addario® XTAPB1256
string gauge - .012/.016/.025/.035/.045/.056
string space - 11.4mm (perfect for fingerstyle)
frets - stainless steel tall/skinny frets for clearer hammer-ons
factory tuning - 1D,2A,3G,4D,5G,6C
pickup - Custom triple source Fishman® Rare Earth Mic Blend Active Soundhole and PowerTap sensor
preamp - Custom Fishman® PowerTap Earth Blend preamp
output jack - Dual Outputs (2 endpin jacks - 1 stereo/mono output capability built in (with strap button) - 1 mono flush mount)
NECK DIMENSIONS
Scale :    655mm/25 3/4" (slightly longer than standard, for deeper bass)
a : Width    45mm at NUT
b : Width    60mm at 14F
c : Thickness    20.5mm at 1F
d : Thickness    22mm at 7F
Radius :    400mmR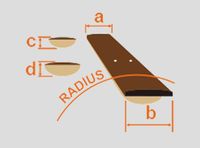 If you have any questions I haven't answered on this page, please tweet me @jongomm or join my facebook group and ask me there. If you don't have social media, use the contact page.