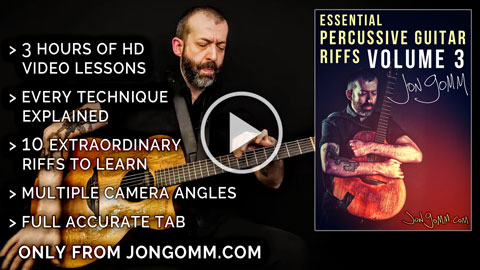 The final chapter is here: Essential Percussive Guitar Riffs Volume 3, with a special launch offer price of £15.99 this week only (full price £19.99) Only from https://jongomm.com/lessons 
This is a huge three hour video of personal instruction, with yet more new techniques, new riffs to learn and compositional ideas for you to use. 
> 10 extraordinary riffs 
> Multiple camera angles 
> Every technique explained 
> Full accurate tab 
> 3 hours of HD video 
Watch the new trailer for Volume 3 here: https://www.youtube.com/watch?v=tnN_m7gsGvM 
You'll learn how to play music that will give you the deepest possible insight into modern approaches to the guitar. 
Every riff is in the same tuning, and I've written full guitar tab to go along with the video. 
There's more ways to use percussion, tapping, harmonics and impossible seeming skills which I will break down for you and make yours to command. 
All the secrets, revealed. 
:) 
Thanks to everyone who's bought these lessons, and let me know how much they've enjoyed them, and developed their playing. Meanwhile, I have big new music announcements coming very soon. 
jg 
x